Administration
Related Info
Contact Info
Email
Address
Antioch City Hall, Office of the City Clerk
200 "H" Street
Antioch, CA 94509
Mailing Address
The City Clerk of the City of Antioch,
P.O. Box 5007, Antioch, CA 94531-5007
Phone
(925) 779-7009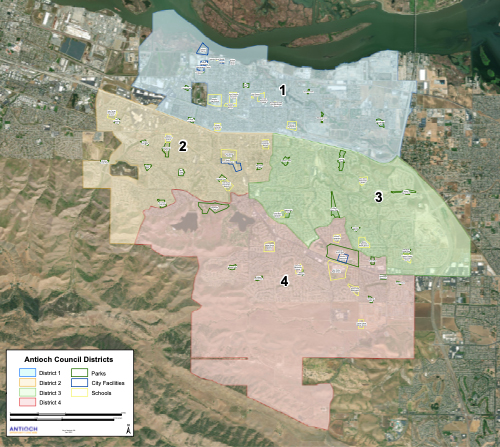 The City Council has ordered a Municipal Election to be held on Tuesday, November 8, 2022, for the purpose of the election of District 1 and District 4 Members of the City Council to four-year terms, in accordance with Ordinance No. 2141-C-S.Find your City Council District here: Antioch Interactive Map (antiochprospector.com)
→ Top-Right Corner – Click Layers and Select 'Antioch Council Districts'
→ Left Column – Search by Address
The nominating period for the Candidates in the November 8, 2022 Municipal Election opens Monday, July 18, 2022. The deadline for filing papers to be a candidate for office will be Friday, August 12, 2022, at 5:00 p.m. (Elections Code Section 10407(a)).
Candidates are strongly encouraged to make appointments with the City Clerk's Office to pick up and file nomination papers for better service.  Appointments can be made by calling the City Clerk's Office at 925-779-7009 or by email to cityclerk@antiochca.gov.
We encourage candidates to start the process early in the filing period to meet the filing deadline. The Candidate Application Packet includes:
Nomination Petitions (if applicable)

Filing Fee Information

Declaration of Candidacy

Ballot Designation Worksheet

Candidate Statement of Qualifications

Statement of Economic Interests (Form 700)

Campaign Finance Disclosure

Code of Fair Campaign Practices
All candidates and their committees are required to report campaign contributions and expenditures. All candidates are required to submit their campaign filing reports electronically. For detailed information regarding campaign finances and deadlines visit the California Fair Political Practices Commission (FPPC) website.