Community Development
Contact Info
Alexis Morris
Planning Manager
200 "H" Street
Antioch, CA 94531
Related Items
Residential Development
---
Legal Non-Conforming Use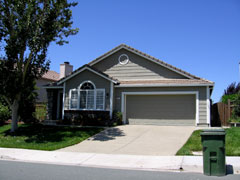 What is the zoning and the setbacks of my house?
The Planning Division maintains a map that shows zoning for every parcel in the City. The map can be viewed in the Planning Division lobby, or anyone can call the planning department to speak with a planner regarding specific zoning, setback, and related questions. For zoning information call (925) 779-7035
Fences
A six-foot tall fence is allowed on property lines at the rear and sides of most properties. All fences in the front setback must be 3 feet or less AND NOT IN THE CITY RIGHT OF WAY. Any new fence requires a building permit. Please call the Building Division (925) 779-7065 for their requirements.
Sheds/Accessory Structures Guidelines
All structures are to be at least 5 feet from any dwelling building either on the same lot or any adjacent lot.
Maximum allowable height is 15 feet.
The shed plus the main building and other existing buildings may not cover more than 40% of the lot.
Setbacks:
a. May not be located in the front yard setback.
b. Minimum side yard setback is 20 feet on corner lots and zero (0) feet on interior lots. (there are building code requirements that must be met for the structure to be less than 3 feet from the property line.
c. No minimum rear setback is required unless the property is a double frontage lot, in which case a 10 foot rear yard setback is required.
PLEASE CALL THE BUILDING DIVISION AT (925) 779-7065 for more information regarding the building permit requirements for an accessory structure.
Can I convert my garage into an extra room?
Garage conversions are generally not allowed. All single family homes must have a 2 car garage with interior dimensions of 400 square feet. In some cases a third car garage may be converted. See Section 9-51703.1 of the Municipal Code for more information.
Can I split my large lot into two parcels and sell the new parcel?
A lot split is known as a "minor subdivision"; a minor subdivision creates a maximum of four lots and requires review at a public hearing conducted by the Planning Commission. If a resident owns property that is more than twice the size of the minimum lot area required by the applicable zoning, a minor subdivision may be possible. However, all new lots must meet minimum width and depth requirements. For example, property in the R-6 zoning district requires 6,000 square feet minimum lot area and 60 feet minimum lot width. Such lot area requirements must be met without including any portion of the private street/driveway providing access to any of the rear (flag) lots.
What is required for my home business?
Antioch allows uses that are incidental to the primary residential use on a lot. A home business is presumed incidental as long as none of the following activities occur:
Advertising on the home or in the yard.
Any vehicle service, diagnosis, or repair.
Activity involving employees or customers or excessive pick-up/delivery to or from a residence.
Any interior or exterior changes that alter the residential appearance or limit the required covered parking space.
An operator of a home business must obtain a business license from the City's Finance Department. Click here for more information regarding Home Occupation Use Permits.
Can I have daycare at my home?
A small family daycare (6 or less children) is considered a residential use of property and no business license or permit is required.
A large family daycare (7 or more children) may be allowed in single-family residences located on residentially zoned lots. An Administrative Use Permit from the Zoning Administrator is required. Click here for an application.
Legal Non-Conforming Uses
Definition: A legal non-conforming use is a use or structure which was legally established according to the applicable zoning and building laws of the time, but which does not meet current zoning and building regulations. A use or structure can become legal non-conforming due to rezoning, annexation, or revisions to the Zoning Code.
Must a Legal Non-Conforming Use be abandoned or altered to meet Current Regulations?
No, as long as the use is continuously operated and it is not discontinued or abandoned for more than a six (6) month period. However, if a legal non-conforming use is discontinued for six (6) months or more, the use loses its legal non-conforming status.
Can an abandoned Legal Non-Conforming Use be reinstated?
Possibly. A legal non-conforming use which has been discontinued for more than six (6) months may be reinstated with a Use Permit if it is found that the conversion to a conforming use would create undue hardship under the particular circumstances.
If a Legal Non-Conforming Structure is destroyed more than 50% of the replacement value by fire or other natural disaster can the use be re-established?
No. The structure may not be restored except in full conformity with the regulations for the district in which it is located, and the nonconforming use shall not be resumed.
If a Legal Non-Conforming Structure is damaged less than 50% of the replacement value by fire or other natural disaster can the use be re-established?
Yes. The building may be restored in its entirety if the new building does not:
Occupy any portion of the lot that was not occupied by the destroyed building;
Have a greater floor area than the destroyed building;
Exceed the height or number of stories contained in the destroyed building; and
The restoration is started within six months and diligently pursued to completion.
Is there a Time Limit for Restoration of Legal Non-Conforming Use for Fire Damage or Natural Disaster?
Yes. The owner has six (6) months from the date of the destruction to apply for a building permit, and six (6) months from the date of issuance of a building permit to begin construction. If these permits are not secured within the time limit specified, the use shall be considered discontinued and abandoned.
Expansion of a Legal Non-Conforming Use
A legal non-conforming use may be expanded through the issuance of a Use Permit.
Adding Non-Conforming Uses to a existing Legal Non-Conforming Use
No structure partially occupied by a non-conforming use shall be moved, altered, or enlarged in such a way as to permit the enlargement of the space occupied by the nonconforming use.
For more information on Legal Non-Conforming Uses, please refer to the Zoning Odinance.