COVID-19 Information
Sign-up For COVID-19 Alerts

COVID-19 Response
In response to the recent outbreak of the coronavirus (COVID-19) and reported cases within our county, the City of Antioch is following the guidance of local, state and federal health agencies. We will update this page regularly to provide information about what the City and our regional partners are doing to address this global health crisis.
UPDATE: MARCH 31, 2020
Health officers in seven Bay Area jurisdictions are extending a previous stay-at-home order through May 3, 2020 in order to preserve critical hospital capacity across the region. As of 11:59 pm on March 31, 2020, all individuals in the County must strictly follow the provisions in this new Order.  This new Order will be in effect until May 3, 2020, but that date could be changed by the County Health Officer.
Minimize Your Risk
According to health officials, you can minimize your risk of becoming infected or spreading COVID-19 and other respiratory viruses by:
Washing your hands with soap and water frequently, and using alcohol-based hand sanitizer when soap and water is not available
Covering coughs and sneezes with a tissue or the crook of your elbow (not your hands)
Staying home from school or work when you are sick
Plan ahead for childcare in case children get sick and need to stay home from school
Avoiding travel when you are sick
Avoiding touching your face with unwashed hands
Limiting unnecessary trips and avoid crowded public spaces when possible
Telecommuting when possible
If you are sick, wear a mask when you go out in public or visit the doctor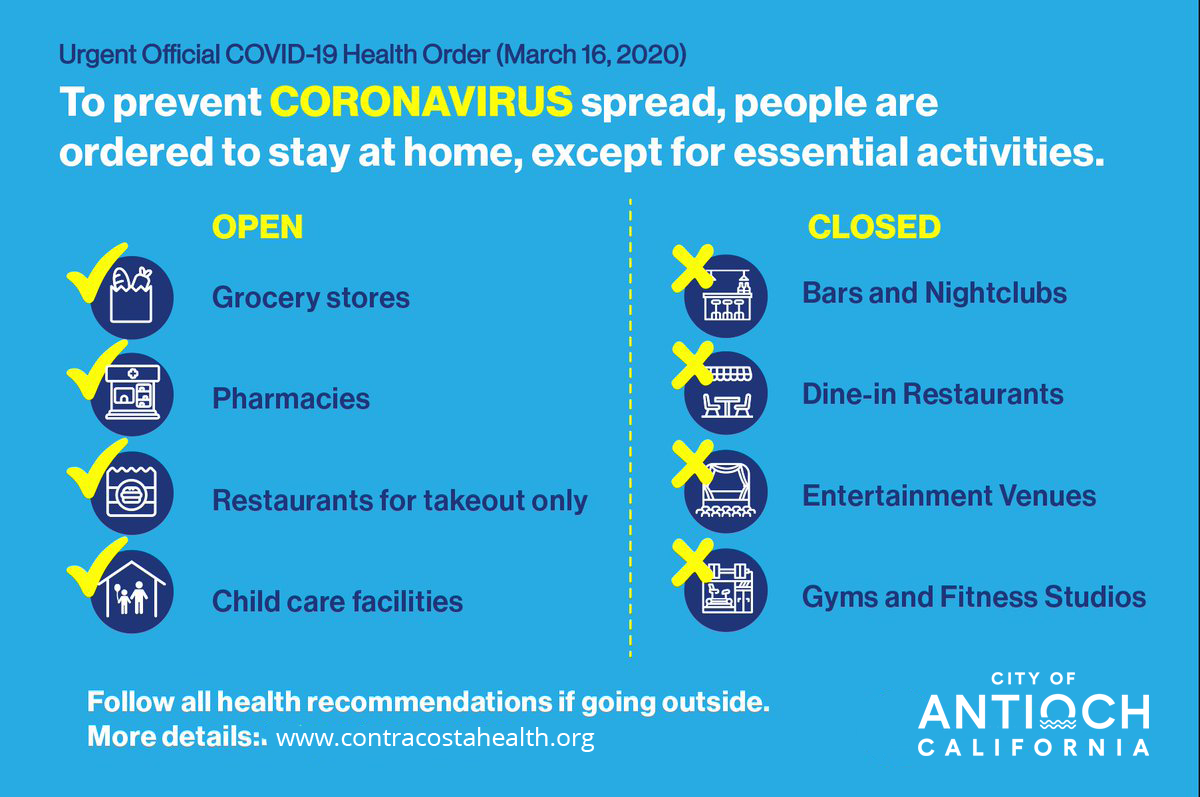 Parking lots at city parks closed
Playgrounds, Skate Park, Dog Park and restrooms are closed.
All city parks will remain open until further notice.
Please practice social distancing while visiting parks.