Public Works
Contact Us
Scott Buenting
Acting Public Works Director/City Engineer
Capital Improvements/Traffic Transportation Engineering
200 H Street – Basement
Antioch, CA 94509
Tel: (925) 779-7050
Hours: 8:00 AM – 5:00 PM
Development Engineering
200 H Street – 2nd Floor
Antioch, CA 94509
Tel: (925) 779-7080
Hours: 8:00 AM – 5:00 PM
Maintenance Operations and Utilities
1201 W 4th Street
Antioch, CA 94509
Tel: (925) 779-6950
Hours: 7:00 AM – 4:00 PM
Public Works Department
---
Water Distribution
The Water Distribution Division of Public Works is responsible for maintaining the City's treated and raw water distribution systems in safe and serviceable condition. The system delivers treated water to residential, commercial and irrigation customers. Personnel maintain approximately 339 miles of water main, 31,274 service connections and meters, 2,390 backflow prevention devices, maintain, repair and flush approximately 3,443 fire hydrants, exercise system valves and administers a water conservation program focused on providing residential, commercial and irrigation customers with education, assistance, and financial incentives to conserve the City's treated water supply.
Personnel staff a 24-hour Standby system to respond to emergency calls and to further meet the needs of our growing community the Division operates an alternative work shift, Monday through Friday 8:00 AM – 5:30 PM.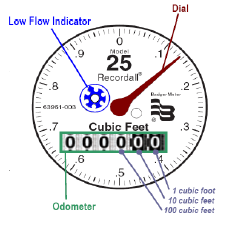 Our Meter Reading personnel are primarily responsible for reading approximately 31,274 water meters each month. Additionally, staff responds to meter related problems such as leaks, replacement of broken or missing meter boxes and lids, turning on and off water at the request of the City's Finance Department, installation of new services, replacement of defective or vandalized meters, replacement of meter transponders, respond to customer requests for billing information and distributes water conservation information. Click here to learn How to Read Your Water Meter and Check for Leaks.
The Warehouse & Central Stores operation is responsible for the procurement, storage and distribution of stock and non-stock items used by the City's various departments and is the receiving and distribution point for all supplies purchased. This operation also provides a variety of other services to departments, such as fire extinguisher service and lock and key repair services.
The Water Distribution Division's management team provides administration and management for the distribution of treated water, as well as the City's meter reading and backflow prevention programs. Personnel provide effective leadership, direction, planning, work scheduling, participation in and monitoring of an effective employee safety training program, prepare annual budgets, monthly, quarterly, annual reports, maintain and oversee compliance with Local, State, Federal, Department of Health regulations and AWWA standards including overseeing mandated programs and ensure guidelines for compliance for valve turning, hydrant flushing and backflow prevention programs. Managers evaluate employee performance, monitor division activities and budgets, develop and implement innovative programs designed to improve department efficiency and effectiveness, develop bid specifications, monitor contract work for compliance, and respond to citizen inquiries.
The Water Treatment Plant Division of the Department of Public Works is responsible for our City's treated water production, operation and maintenance of the City's two water treatment plants, A Plant and B Plan.