Contact Info
Related Items
Building Inspection Services Division
The Building Inspection Services Division inspects all structures within the City that are on private property and not in the public right-of-way, utilizing the California Building, Plumbing, Electrical, and Mechanical Codes.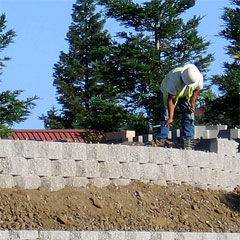 The City of Antioch requires building permits for projects like the following:
All structures on private property
Pools and spas (including doughboy pools)
Gazebos, patio covers/enclosures
Storage sheds (including pre-fabricated sheds)
Wood decks
Installing or replacing water heaters
Reroofs
Termite repairs
Remodels (kitchens, bathrooms or whole house)
Upgrades to plumbing, electrical, or mechanical (including HVAC change outs)
This list is just an example of what may require permits. Please contact our office for more information on your specific project at 925-779-7065.
Exceptions to this rule are as follows:
Retaining walls three feet (3′) or less in height
Slabs on grade
Landscape sprinkler systems
REPLACEMENT of fences

Six feet (6′) maximum height in rear and side yard
Three feet (3′) maximum height in front yard
Building permits are required prior to beginning any construction.
To apply for a building permit three (3) sets of the follow must be submitted to our office for processing along with a completed permit application:
PLOT PLAN: shows aerial view of structure in relation to property lines and existing dwelling
FOUNDATION PLAN: shows detail of support of the structure
FRAMING PLAN: shows how the structure is to be constructed, i.e. size and spacing of members, species of wood, fastener size and spacing, and an explanation of the type and location of hardware
ROOF PLAN: shows how the roof of the new structure will tie in with the existing dwelling, including attachment detail and flashing detail
For more information on the above items please click here
*For complex structures, a sectional view of construction may be required.
Small project building applications may now be submitted online.
The following may be submitted to our office online:
Reroofs
Water heaters
HVAC's
Electric panel upgrades
Sewer repairs
Please submit only the ABOVE via email at building@antiochca.gov. Once your application has been received and processed you will be contacted to set up an appointment for pick up and payment.
For further information, please call the City of Antioch Building Department at (925) 779-7065.
Forms
COMMERCIAL PROJECTS
All commercial applications and plans will need to be submitted via hard copy to the office. The following is typically required for commercial projects but call the Building Division at (925) 779-7065 to confirm submittal requirements for individual projects.
New

Three (3) sets of plans wet stamped and signed
Two (2) sets Title 24, soils reports, structural calculations and roof trusses

Tenant Improvements:

Three (3) sets of plans wet stamped and signed
Two (2) sets of Title 24 and structural calculations
Applications and plans can be dropped off at our office or mailed to:
City of Antioch
ATTN: Building Division
200 H St
Antioch, CA 94509
The building division is located on the 2nd floor of City Hall.