Public Works
Contact Us
Scott Buenting
Acting Public Works Director/City Engineer
ADA Transition Plan Coordinator
Capital Improvements/Traffic Transportation Engineering
200 H Street – Basement
Antioch, CA 94509
Tel: (925) 779-7050
Hours: 8:00 AM – 5:00 PM
Development Engineering
200 H Street – 2nd Floor
Antioch, CA 94509
Tel: (925) 779-7080
Hours: 8:00 AM – 5:00 PM
Maintenance Operations and Utilities
1201 W 4th Street
Antioch, CA 94509
Tel: (925) 779-6950
Hours: 7:00 AM – 4:00 PM
The Public Works Department provides maintenance service to Antioch's roads, parks, marina, open spaces, flood control areas, water and sewer lines as well as providing safe potable water to residents. In addition, the Public Works Department provides 24-hour emergency response water and sewer line as well as urgent calls related to public infrastructure. After regular working hours, weekends and holidays, call the Police Dispatch non-emergency number, 925-778-2441 for service.
All GIS (mapping) related activities throughout the City's different departments, including design, development, and maintenance of spatial databases is managed by the Public Works Department.
The Capital Improvements Division creates the Five Year Capital Improvement Program (CIP), which is a Five Year Plan, typically budgeted every two years. The Capital Improvement staff provides technical engineering services and support to all City departments related to facility expansions and improvements, infrastructure rehabilitation and development.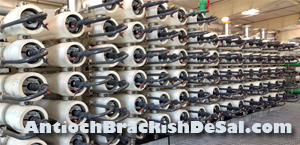 Antioch Brackish Water Desalination Project
The Antioch Brackish Water Desalination Project utilizes existing infrastructure to the degree possible and also includes new facilities and infrastructure to improve the City's water supply reliability and operational flexibility. Learn more about this project at AntiochBrackishDesal.com
The Engineering and Development Services Unit is responsible for review of final and parcel maps, which divide large parcels of land into lots for residential, commercial or industrial development.