Community Development
Contact Info
200 "H" Street
Antioch, CA 94531
Related Items
Planning Division
---
Housing Element & General Plan Updates
Summary / Introduction
Antioch's General Plan is a long-term vision that guides growth and reflects community priorities and values. It is divided by topics (called "elements") that include land use, circulation, housing, and environmental hazards. As community priorities change and in accordance with State law, the City must periodically update these elements. This year, Antioch is updating the Housing Element and Environmental Hazards Element and will be incorporating new Environmental Justice policies into the General Plan.
The Housing Element is part of the City's General Plan and lays out a blueprint for how the City will meet its housing goals. At its core, a Housing Element is an opportunity for community members and policy makers to address local housing challenges and find solutions. It contains detailed information on local housing needs, existing resources and constraints, and an inventory of sites that are suitable for new housing. Under State law, each jurisdiction in California must update their Housing Element every eight years. The City is updating its Housing Element for the 2023-2031 cycle.
Under recent State law, the Environmental Hazards Element (referred to in State law as a "safety element") must incorporate climate adaptation and resiliency strategies. Climate impacts include wildfire, flooding, and extreme heat, among others. As environmental trends change, the City must make sure that the Environmental Hazards Element contains accurate data, community input, and policies.
The City of Antioch is incorporating new policies into the General Plan that will seek to advance the principles of Environmental Justice (EJ) and achieve the following goals:
All community members receive the same degree of protection from environmental and health hazards.
There is equal access to the decision-making process to have a healthy environment in which to live, learn, and work.
Handouts & Guides
Staff Reports & Notices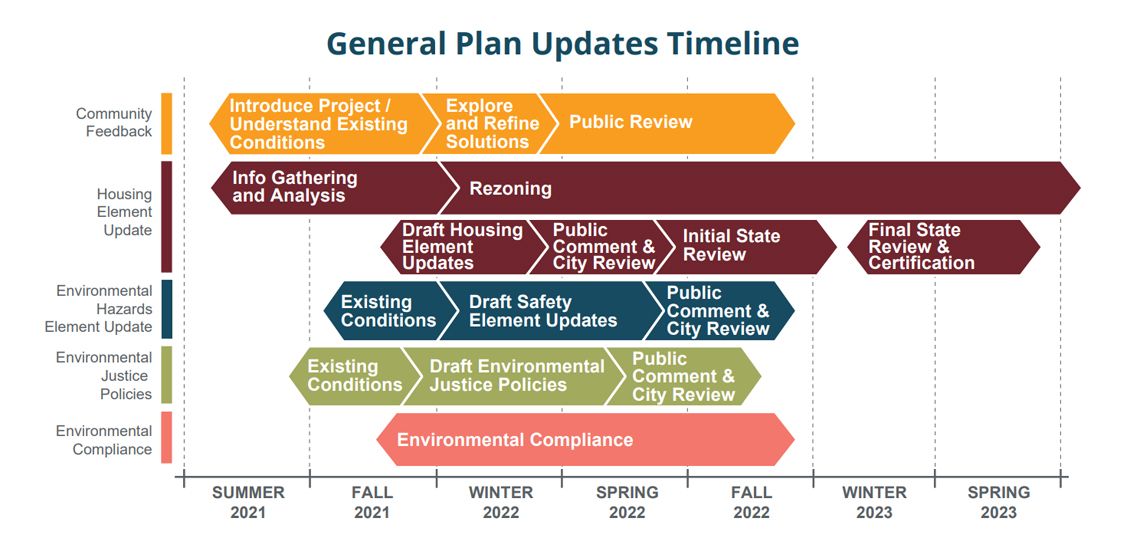 Previous Cycle / 2015-2023 Housing Element: