Contact Info
Forrest Ebbs
Director
200 "H" Street
Antioch, CA 94531
Community Development Department
The Community Development Department, located on the second floor of City Hall, is now open to the public, Monday through Friday, from 8am till 5pm, for questions regarding services provided for each of our Divisions.  For in-person services at the public counter an appointment is required.  Appointments are offered Monday through Thursday, for the following services:
Building Permit Issuance
Solar Plan Review
Building Code/Project Inquiries
Planning Permit Issuance
Code Enforcement Inquiries
Code Enforcement Citation Payments
PLEASE NOTE:  Face masks are absolutely required for all those visiting City Hall.
To schedule an appointment, please use the following contact information:
For contactless application submittal, please click here for a Building Permit application that can be scanned and emailed to the Building division at Building@antiochca.gov.
The Community Development Department consists of the following 3 (three) Divisions: Planning, Building, and Code Enforcement.
Each of these Divisions and functions is involved in the development and implementation of plans which will guide the community in the years ahead. By having staff work together in the various aspects of development, the development process is made more effective and efficient.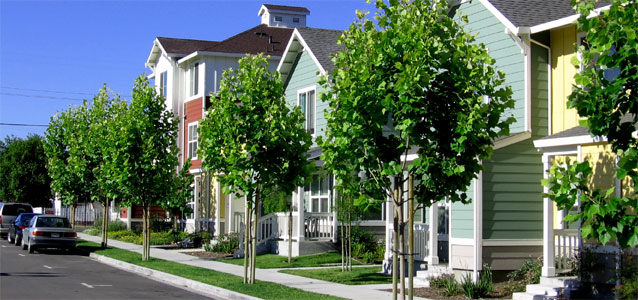 The Community Development Department is responsible for managing development in the best interests of the City by applying regulations and standards that make our City a better place in which to live, work, and play. It is through the efforts of these Divisions that the "quality of life" goals of the City take shape and are implemented. The quality of development, be it commercial, residential, or employment uses, determines in part the community's image and satisfaction of its residents.
The Planning Division is the central point for the review and processing of all development applications including zoning, use permits, variances, design review, Home Occupation Use Permits, and planned developments. This Division also assures compliance with the California Environmental Quality Act (CEQA) and applicable General Plan/Specific Plan requirements. The Planning staff works directly with both the Planning Commission and City Council. This Division has a primary role in the long-range planning for the community, including updating the General Plan and the preparation of specific plans for future growth areas.
The Code Enforcement Division is responsible for enforcement of the City's municipal codes throughout Antioch and also provides immediate response to illegal dumping, encampments and maintenance of City properties. The Division works closely with property owners to ensure maintenance of properties and buildings and to maintain or improve the image of the City of Antioch.
The Building Inspection Division inspects all structures constructed within the City which are not in the public right-of-way, utilizing the Building, Plumbing, Electrical, and Mechanical Codes. This Division administers and collects development fees charged by the City and other Agencies, maintains the City's street address system, inspects older structures in the City for health and safety hazards, and enforces State and Federal handicapped requirements, and State Energy Conservation requirements.