Environmental Resources
Contact Info
Waste Management Line
Related Items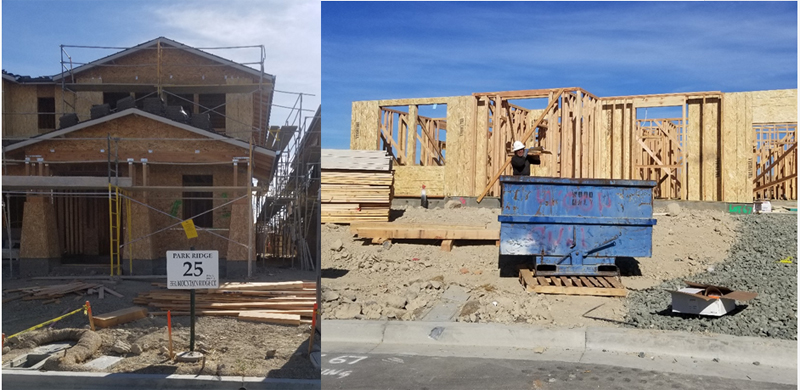 Construction and Demolition Recycling
The City of Antioch's Construction and Demolition (C&D) Recycling Ordinance requires the diversion of 65 percent by weight of construction waste materials generated during the project away from landfills. It is the responsibility of the owners or builders of construction projects within the covered occupancies to ensure that their construction and demolition projects meet the city requirements.
First, you will need to determine whether your project meets the requirements. For the purpose of determining whether a project meets the foregoing thresholds, all phases of a project and all related projects taking place on a single or adjoining parcel, as determined by the Waste Management Plan (WMP) Compliance Official, shall be deemed a single project.
Qualifying projects will require the submittal of a Waste Management Plan (WMP) in order to receive a building permit. The applicant must submit the final WMP (Section II) with documentation (waste receipts/weight tags) showing they have met the 65 percent diversion goal prior to the final inspection. Applicants that fail to submit the required WMP or documentation within the required time period may be subject to civil penalties.
Applicants for construction, demolition, and renovation projects within the City which are not Covered Projects (Non-covered Projects) shall be encouraged to divert as much project-related construction and demolition debris as possible.
To find out more about recycling Construction & Demolition debris in the state of California visit CalRecycle. If you have further questions about the City of Antioch's C&D Recycling Ordinance not answered below, you can contact wastemgmtplan@ci.antioch.ca.us or call (925) 779-6176.
Frequently Asked Questions:
What is the purpose of Antioch's C&D Recycling Ordinance?
The purpose of Antioch's C&D ordinance is to maintain compliance with State waste reduction legislation and the California Green Building Code. In addition, diverting waste from landfills to be recycled provides both economic and environmental benefits to your local community.
When does the Antioch's C&D Recycling Ordinance apply to a project?
The C&D Recycling Ordinance applies to all of the following projects:
All new structures.
All permitted non-residential additions and alterations.
Permitted residential additions or alterations that add to the conditioned area of the property.
Demolition of any structure or portion of a structure larger than 120 square feet.  This includes any remodel projects of an area larger than 120 square feet.
What debris are considered C&D materials?
Construction & Demolition materials include lumber, drywall, metals, masonry (brick, concrete, etc.), carpet, plastic, pipe, rocks, dirt, paper, cardboard, and green waste related to land development. Identifying the material type of C&D debris that will be generated will help you stage the materials at the job-site and allow you to choose appropriate recycling facilities or service level needed before you start the job. For more information about C&D materials click HERE.
Where can I recycle C&D debris?
How do I use Republic Services to recycle C&D debris?
If you are planning using dumpsters or roll off bins to collect your recyclables or garbage, you must contact Republic Services, as they are the only authorized hauler of waste for the City of Antioch. To set up recycling and garbage collection service or for more information click the link above or call Customer Service at (925) 685-4711.
Because Antioch has a C&D Recycling Ordinance that requires proof that at least 65 percent of job-site waste is either recycled, reused, or salvaged – here are specific instructions to ensure success in complying with the Ordinance while using Republic Services.
At the time of contract with Republic Services, here are essential things you need to do:
Tell them from the beginning that the waste is C&D debris and you need it to be recycled (make sure this is clearly noted on your contract with them).
Tell them you need copies of ALL the weight tickets, and you NEED the tickets to show that the waste has been recycled.
Tell them to send you the weight tickets via email as soon as they receive them.
Once you receive them, forward them onto wastemgmt@ci.antioch.ca.us. (Note: if Republic Services sends you a report or pie chart, be sure it is accurate and ALL the weight tickets accompany it.)
Can I haul my own C&D debris?
If you will be hauling your C&D debris to a salvage or recycling facility, make sure to call ahead to check hours of operation, disposal fees, and to confirm that the facility can receive and recycle your materials the required 65 percent (or greater) diversion rate. One that is determined whoever is hauling the waste materials needs to go to the area designated for C&D Recycling and ask the weighing attendant for recycling/C&D receipts.
Can I still use sub-contractors?
If you use sub-contractors, you are still responsible for any materials they take away from the job-site. Make sure you inform your sub-contractors about your C&D recycling requirements. They must take materials to a recognized recycling facility and provide you with recycling receipts. That's your recycling credit driving away in their truck!
Does C&D material need to separated or can it be mixed?
The manner in which you collect and sort the C&D debris will determine what facility you can use for recycling. Visit RE:Source to find facility locations that will accept recycling material from mixed loads or separated loads of clean materials.
Construction and Demolition Resources
Recycling Receipt For Material(s) Received: Download a copy of this receipt if you are reusing material at a site that does not have weight tags.
Recycling Receipt Guide: Here are some examples of C&D receipts from facilities in Contra Costa County to help guide you and ensure that the your recycling is counted toward your diversion percentage.
Conversion Factors: Need help estimating the weight of material types for your projects converting from cubic yards to tons, or just want to get an idea of how much waste a project might generate? Use these conversion factors to help you out.
Republic Services is the only authorized hauler of waste for the City of Antioch. To set up recycling and garbage collection service or for more information click the link above or call (925) 685-4711.