Environmental Resources
Contact Info
Related Items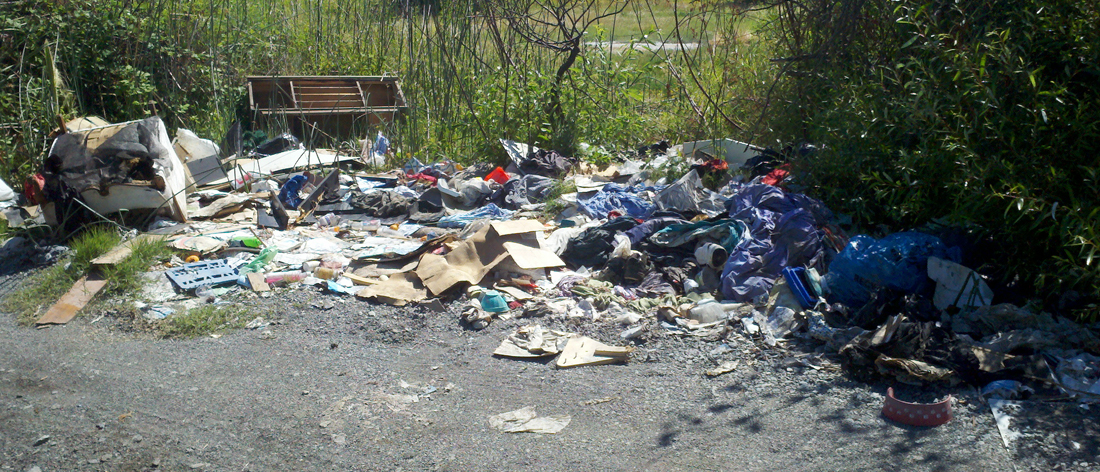 Illegal dumping is the placing of any waste onto public or private property without the knowledge or consent of the property owner. Illegal dumping is a serious crime; it is important that you report illegal dumping.
Community and Environmental Concerns
When not addressed, illegal dump sites will attract additional dumping
The health and safety of children who play around a dump site may be endangered
It may include hazardous wastes such as asbestos, household chemicals or paint that harms our local waterways
It poses a number of health risk to public health, aquatic habitats, and wildlife
Debris can block storm drains, causing flooding
It may create traffic hazards when dumped within the right-of-way
It contributes to the pollution problems in our city
It can decrease property values
How to help prevent illegal dumping
Always dispose of your own waste materials properly. Don't overfill your carts so that the lids don't close.
Garbage service is mandatory in Antioch. Help by reporting residences or businesses that do not have proper garbage service to the City of Antioch's Code Enforcement Division.
Have more to discard then will fit in your carts? Remember that Republic Services offers 3 extra recycling pickups, 2 extra garbage pickups, 2 large items every calendar year.
If you hire someone to help with a property cleanout, ask for receipts from the proper disposal of your items before final payment.
Learn more about what can be recycled or composted by visiting RE:Source
Donate any unwanted reusable materials to a local charity.
Drop off your household hazardous waste at the Delta Household Hazardous Waste Facility.
Report illegal dumping of any material with detailed information by contacting Code Enforcement or using the SeeClickFix
Report Illegal Dumping
The City of Antioch encourages anyone who encounters an illegal dump that has already taken place to report it to Code Enforcement using the SeeClickFix app.
If you witness someone illegally dumping or any other pollution activity maintain a safe distance and call 911 to report instance. If you are unable to report it in the moment, please take down the following information and report it as soon as possible:
Date, time, and location of incident
Description and photos of material that has been dumped
Description and photos of vehicle and license plate
Description and photos of person(s) dumping