Contact Info
Julie Haas-Wajdowicz
Environmental Resources Coordinator
Environmental Resources Line
Related Items


Climate Action Resilience Plan
Overview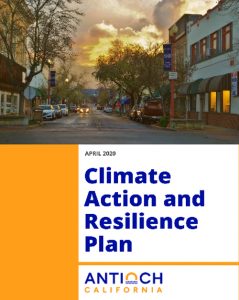 The Climate Action and Resilience Plan was adopted by City Council on May 12, 2020 in order to begin preparing the Antioch community for hazards shocks such as drought, flood, and extreme heat that are expected to intensify in the future and to reduce the community's reliance on carbon-based energy sources.
The Climate Action and Resilience Plan was developed in conjunction with the Five Year 2020-2025 Contra Costa HOME/CDBG Consortium Consolidated Plan, including the City's Strategic Plan and annual Action Plan in the Consolidated Plan document. The Consolidated Plan is submitted to the U.S. Department of Housing and Urban Development (HUD) every five years for review. After HUD approval, the City is able to access a variety of federal and state funding to achieve the goals laid out in the Consolidated Plan. Funding includes the Community Development Block Grant (CDBG), HOME Investment partnership funding, and such other community development funds as may become available. By aligning CARP actions with CDBG funds, the City of Antioch can secure and utilize federal and state funding to increase community resilience for low-income communities and vulnerable populations over the next five years.
Questions, comments and concerns on the Climate Action and Resilience Plan should be addressed to Lorenzo Siemann.
Addressing Resilience
The primary goal of the Climate Action and Resilience Plan is to provide tools for the City of Antioch and the Antioch community to build community resilience to climate challenges. Actions that build resilience have benefits that fall into three broad categories: adaptation to climate related changes, mitigation of greenhouse gas emissions, and community development for building strong communities that can withstand the climate challenge. Many proposed actions have multiple benefits, and provide benefits in more than one category. The image below summarizes these benefits. The Climate Action and Resilience Plan prioritizes actions that provide multiple benefits for the community.