Antioch Marina
Located at the Foot of "L" Street
#5 Marina Plaza
Antioch, CA 94509-7905
Contact Info
Tel (925) 779-6957
Fax (925) 779-6854

Development of the ANTIOCH MARINA began in 1986 and the Marina was completed in 1988.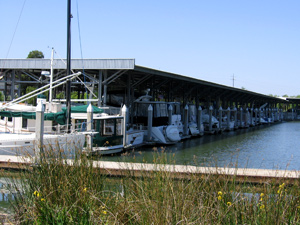 The berths are on the east side of the Marina, with two gangways serving the six main walkways. The size of the Marina basin confined within the sea walls is approximately 800 feet by 750 feet (12.8 acres), with an entrance 60 feet wide and a depth of 10 feet at zero tide.
There are no channels to be considered as the approach to the Marina is a natural shoreline gradient from approximately 68 feet depth in the center of the San Joaquin River.
What are your rates for a berth and what does that include?
Our fiercely competitive rates for berthing are $6.00 per foot uncovered berths and $7.50 per foot covered berths.
Minimum size berth uncovered is 24' feet, covered is 32' feet. We charge by the berth size or the vessel's length whichever is greater.
Berth rental includes water, electricity is metered. 20 and 30 amp service is available.
Computer controlled access gates and on-site Marina Office open.
Access to exclusive Berther restrooms and showers.
Coin operated laundry facility on site.
Chevron Marina Fuel Dock dispensing diesel, and Mid-grade gasoline at competitive prices.
Free waste pumpout station.
Do you have a Boat Launch Ramp?
Yes, The Antioch Marina has a boat launch ramp. The charge is $5 per launch for vehicles with trailers (all vehicles with a trailer must have a valid launch permit). There is a self pay station on-site. Each launch permit is valid for 24 hours. You may purchase up to 3 permits totaling 72 hours max. Annual passes are also available for purchase in the Marina Office for $100 (valid from January to December). Small non-motorized vessels such as kayaks do not require a launch fee unless you have a vehicle with trailer. Parking lot space is ample and well lit.