Contact Info
Emergency   911
Non-Emergency
Tel: (925) 778-2441
Business & Lobby Hours
8 am – 5 pm Mon – Fri
Antioch Police Facility
300 L Street
Antioch, CA 94509
Dr. Steven A. Ford
Chief of Police
Anthony Morefield
Field Services Captain
Trevor Schnitzius
Support Services Captain
Antioch Police Department
Antioch Police Chief Biography
Dr. Steven A. Ford, Chief of Police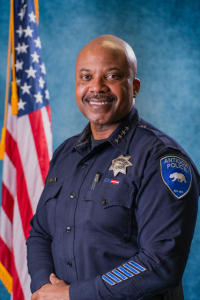 Chief Steven A. Ford, Ed.D, M.S., B.S., who currently leads the Antioch Police Department, grew up in San Francisco's Ingleside-Oceanview district. His law enforcement background spanned thirty-one plus years with the San Francisco Police Department and includes assignments in Operations, Investigations, Administration, Special Operations-Homeland Security, and Professional Standards-Strategic Management bureaus. Specific positions such as Internal Affairs, Professional Standards-Principled Policing, Administration, and serving as the Commanding Officer-Captain of a District Station resonate most. In addition, Chief Ford serves as faculty at San Francisco City College and San Francisco State University where he instructs administration of justice courses and course work in the MPA program.
Chief Ford holds an Associate of Sciences Degree from San Francisco City College, a Bachelor of Science Degree from San Francisco State University, a Master of Science Degree from California State University-Long Beach, and Doctoral Degree in Educational Leadership from Saint Mary's College-California. Chief Ford has attended the Sherman Block Supervisory Leadership Institute, Robert Presley Institute of Criminal Investigations, California POST Command College, California Police Chiefs Executive Leadership Institute at Drucker-Claremont Graduate University, POST Executive Development, San Francisco Leadership-S.F. Chamber of Commerce, and San Francisco Police Department Leadership Development Institute.
Chief Ford is a highly accomplished, knowledgeable and hands-on law enforcement leader and academic administrator with extensive formal education, exceptional administrative/communication skills and extensive university administrative experience. Chief Ford seeks to contribute and utilize a multitude of skills and abilities in a leadership capacitywithin progressive and forward-thinking organizations.
Chief Ford considers his leadership and professional philosophy to be that of a contemporary leader who values the history of the profession, is focused on current challenges, and has a vision for the future of policing. Chief Ford is personable, approachable, nurturing, and responsive.
"Culture eats strategy (policy) for breakfast"
Peter F. Drucker