District Elections Information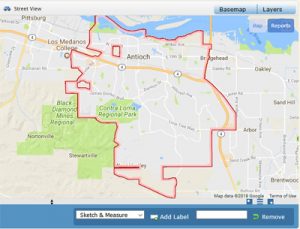 The City of Antioch has provided this interactive map to help you explore the population of the city in the geographic units the maps will be drawn with (census blocks). Using this map, you will also be able to see Community of Interest (COI) testimony that has been submitted, and eventually street-level detail of draft maps of the City Council districts.
How to Use the Map
Navigate to the map's site http://www.antiochprospector.com/
Click the drop-down menu on the top right-hand side of the page that says "Layers."
Click "Census Blocks."
The Census Block layer should appear. Census Blocks are the units of geography that will be used to construct the maps. When you zoom into a census block, the block is labeled with the population count.
You can also search by location to zoom the map into your area of interest by entering an address into the "Search by Address" tool on the left-hand side of the page and clicking "Find."
For your reference, there are other layers available on this map as well – for example, Schools, Trails, and Fire Stations. These are only for reference and will not necessarily be considered in drawing the district maps as they are not part of Antioch's City Council districting criteria. They may be useful to help visualize a location, however they will not be directly used in creating the District Maps.
When we have received public input, we will digitize the COI testimony and make these layers available for viewing on this map. To view the COI layers, please utilize the process above but instead of choosing the Census Block layer, choose different COI layers to toggle these layers on and off. Multiple layers can be viewed on the map simultaneously.
Working Draft Maps will also be available for viewing through the Interactive Map on or before the third public hearing on March 10, 2018.
Thank you for your participation in Antioch's districting!