Contact Info
Emergency   911
Non-Emergency
Tel: (925) 778-2441
Business & Lobby Hours
8 am – 5 pm Mon – Fri
Antioch Police Facility
300 L Street
Antioch, CA 94509
Dr. Steven A. Ford
Chief of Police
Anthony Morefield
Field Services Captain
Trevor Schnitzius
Support Services Captain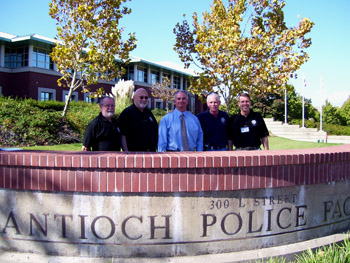 The chaplaincy program provides spiritual support during times of crisis, death, or any other spiritual guidance as needed.
Chaplains serve as non-denominational ministers to meet the spiritual, emotional and humanitarian needs of police department personnel and the citizens of Antioch.
Chaplains are available for individual and family counseling, critical incident support and citizen support services for traumatic events.
Citizen support services for traumatic events include:
Death notifications
Suicide, suicide threats/attempts
Death of a child
Fatal/major injury accidents
SWAT operations and critical incidents
Violent crimes against people
Sex crimes
Police support services for critical incidents include:
Officer-related shootings
Tragedies
Serious injuries
Fatalities
Etc..
Selection Criteria/ Authority for Appointment
The law enforcement chaplaincy believes that faith is the answer to the human dilemma. Thus, the chaplains accept their role as a sacred duty and a mission from the community of faith to the citizens of Antioch, law enforcement personnel, and their families.
To qualify for appointment as a volunteer Police Chaplain, an individual needs to meet the following minimum qualifications.
Be an ordained member of the clergy in good standing and endorsed for the chaplaincy by a recognized religious denomination, with a minimum of five years experience or waiver by the Chief of Police.
Possess sufficient experience in pastoral and parish work in order to cope with the spiritual, emotional and social needs of the members of the department and community.
Be willing to conform to the department's policies, rules and regulations, which apply to the Chaplaincy Program.
Be willing to be involved in training that would enhance one's efficiency in meeting and dealing with the role and function of a Police Chaplain.
Possess a valid California's driver's license.
If you meet the minimum qualifications and are interested in becoming a Chaplain, please fill out the application provided to you on the website and return it to the police department. After applications have been received and reviewed, the applicants we believe most qualified will be invited to appear before an oral panel. The applicants selected from this process will be recommended to the Chief of Police for his review and consideration. Finally, the applicants selected by the Chief will undergo a background investigation before they are accepted into our police chaplaincy program.
If you have any additional questions regarding the Antioch Police Chaplaincy Program please contact Lt. Desmond Bittner (925)779-6999.
Related Info