Contact Info
Police Department
Tel: (925) 779-6900
Non-Emergency
Tel: (925) 778-2441 *9
Business & Lobby Hours
8 am – 5 pm Mon – Fri
Antioch Police Facility
300 L Street
Antioch, CA 94509
Joe Vigil
Acting Chief of Police
Captain Morefield
Field Services
Lt. Mellone
Professional Standards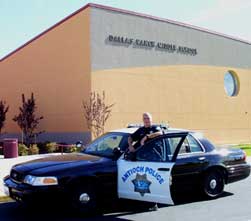 Community policing is a philosophy, a management style and an organizational strategy that promotes police and community partnerships. Community policing recognizes a shared responsibility and connection between the police and the community in making Antioch a safer place to live.
No single agency can solve complex problems alone. A combined police and community effort aids in maintaining the safety of our neighborhoods and business districts.
With better citizen and police communication, officers can more effectively use and share crime information with the public. Officers, who are aware of their community problems, as well as their residents, can link people with other agencies that can help improve the community.
With this in mind, police officers become familiar with the community, listen to citizen's concerns and assist them with problem solving. These solutions are used by the community and the police to develop customized responses to neighborhood problems.
Beginning in 1993, the community policing program was implemented in areas generally having high calls for service. By the end of 1998, the program had been implemented in five phases throughout the city. In 2001, the Antioch Police Department improved the community policing program by including every neighborhood within the city. This was done to fulfill our promise to be a full-service police agency to the citizens of Antioch.
The city was divided into 63 community policing reporting zones (RZ). Each RZ was designed after consideration was given to response times, crime rates, population, and geographical elements. Every community policing officer is assigned to a specific reporting zone. This provided community policing coverage seven days a week.
When a citizen or group brings a quality of life issue to the attention of their community policing officer, the officer will utilize any and all resources to resolve the problem. The goal is not merely to 'fix' the problem, but to create a long-term solution, preventing the problem from reoccurring. Examples of this would be improving the aesthetics of a neighborhood to discourage further criminal activity (i.e. removing graffiti quickly to deter others from committing similar vandalisms), or relocating a source of neighborhood complaints (such as a payphone or bus stop) to an area less likely to create problems.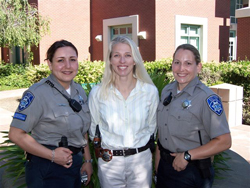 Community policing requires a shift in the roles and relationships between the police and the community. The police department acknowledges we cannot do the job alone; recognizes that we have valuable resources available to us in the community; and understands the need to share power and decision making to solve these community problems. In turn, the community must become empowered to accept the challenge and responsibility to assume ownership of their community's safety and well-being. Shared ownership does not mean that individual residents "take the law into their own hands" or attempt to enforce the law on their own. However, it does mean that the police and community must work together to:
Identify and prioritize problems that plague our community.
Develop and implement innovative and effective responses to problems.
Determine appropriate actions.
Utilize all available resources.
Constantly evaluate, and if necessary, modify these actions until the desired results are achieved.
Rapid response times and increased arrests are widely accepted as the primary basis of measurement for law enforcement effectiveness. However, the Antioch Police Department augments these standards with more qualitative standards, measured by resident (community) satisfaction, improved quality of life, problem-solving successes and levels of community participation.
The community policing philosophy, the partnership and shared responsibility between the police department and the citizens it serves has and will continue to improve the quality of life for the residents of Antioch.
Police Ride-Along Program
The Antioch Police Department currently offers a Police Ride-Along program that allows residents to accompany officers during their tour of duty in a police vehicle. This public education program provides an opportunity for members of the community to see firsthand the day-to-day workings of law enforcement in the City of Antioch.
The ride-along guest receives important insight into what it means to be a police officer. The program fosters a better understanding of the challenges, hazards and rewards of the police officer's role in the community. In addition, the citizens get an opportunity to get to know their police officers, the officers in turn get to know the community they serve and citizens will learn what to expect and why if they ever have a need to call for police assistance.
Completing this application does not guarantee that your ride-along request will be approved. Ride–along requests are generally granted; however, at times the existing staffing levels cannot accommodate the volume of requests. Consequently, requests may be denied and or re-scheduled.
Ride-alongs are held to a minimum. Generally one ride-along will provide sufficient orientation.
Please allow 7-10 days from the time of your application for processing. Your ride-along shall not exceed a single four (4) hour session. If desired the ride-along can be less than four hours. Remember to include a requested time slot on your application. Your dress attire can be casual and should be conservative and reflect good taste.
If you are interested in a ride-along, complete the Request for Ride-Along and Liability Waiver. The completed form can be dropped off at the Antioch Police Department during business hours, sent by mail to the address below or returned by fax.
Antioch Police Department
300 L Street
Antioch, CA. 94509
The Lobby Hours, Monday-Friday 8:00am to 5:00pm, closed holidays and weekends.