Contact Info
Emergency   911
Non-Emergency
Tel: (925) 778-2441
Business & Lobby Hours
8 am – 5 pm Mon – Fri
Antioch Police Facility
300 L Street
Antioch, CA 94509
Steven Ford
Chief of Police
Anthony Morefield
Field Services Captain
Trevor Schnitzius
Support Services Captain
Current Officers and canines listed from Left to Right: Officer Shipilov and K9-Tzak (pronounced: Tak), Officer Tjahjadi and K9-Kaia, Officer Ramirez and K9-Enzo, Officer K. Smith and K9-Kona, Officer Amiri and K9-Purcy, Officer Mayer and K9-Dex. Also pictured are K9 Unit Supervisors Sergeant Koch and Corporal McElroy
One of the rich traditions of the City of Antioch is its Police Department's Canine Unit. The unit has been in existence since 1964 and is considered to be a leader in the field. The Antioch Police Department's Canine Unit functions not only as a law enforcement tool that augments police personnel, resulting in the improved safety for the officers and citizens of Antioch, but also as a public relations tool that receives tremendous public support. It is a viable component of our daily law enforcement operations and is promoted proudly by the Chief of Police and his staff.
The existing unit consists of six Officer/Canine teams with each canine having a work life expectancy of five (5) to seven (7) years. All canines are trained in the areas of protection, searching, tracking, article searching and narcotics detection. The use of the canines in our department enhances not only our efficiency, but our effectiveness in our efforts to apprehend criminal violators, locating missing persons and the locating of crucial items of evidence.
While at work, the canines are the officer's partner. After work, they go home with the officers where they are truly part of the officer's family. They enjoy the family home and family outings just like any other traditional pet. To say the least, the bond that develops between the officer and the canine is quite strong.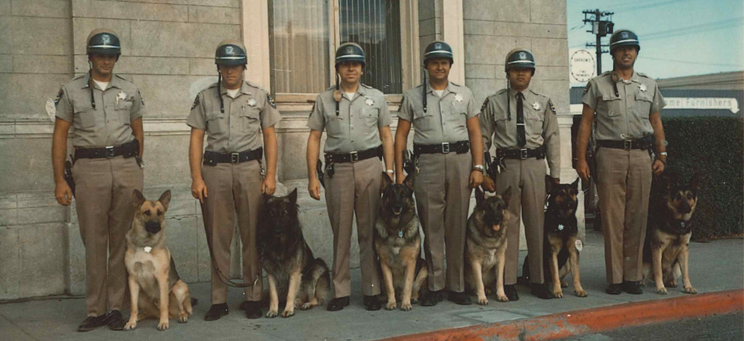 Photo from 1968. Officers and K9s listed Left to Right: Officer Ray Shively…..K9 "Cato", Officer Lew Pengilly….K9 "Victor", Officer Dean Eddy…….K9 "Hondo", Officer Jim Knowles…..K9 "Tad", Officer Joe Vallerio….K9 "Prince", and Officer Glen Blomseth…K9 "Anchor"