Environmental Resources
Contact Info
Julie Haas-Wajdowicz
Environmental Resources Coordinator
Environmental Resources Line
Related Items

Environmental Resources
---
SB1383 Implementation
City of Antioch is currently working on major updates to the Solid Waste Chapter of the Antioch Municipal Code (AMC).  These updates are required as the City works towards compliance with the new state regulations related to Short-Lived Climate Pollutants (SB 1383).  For more on the legislation, please visit https://www.calrecycle.ca.gov/organics/slcp/
Per the regulations, the City must:
Provide organic waste collection to all residents and businesses
Establish a food recovery program to recover edible food from the waste stream and redistribute it for consumption
Conduct outreach and education to all affected/relevant parties, waste generators, haulers, facilities, edible food recovery organizations, and City departments
Conduct Capacity Planning: Evaluate the City's readiness to implement SB 1383
Procure recycled organic waste products like compost, mulch, and renewable natural gas (RNG)
Inspect and enforce compliance with SB 1383
Maintain accurate and timely records of SB 1383 compliance
The proposed AMC updates are an integral part of the required Enforcement and Inspection Program.  Significant changes to the AMC include: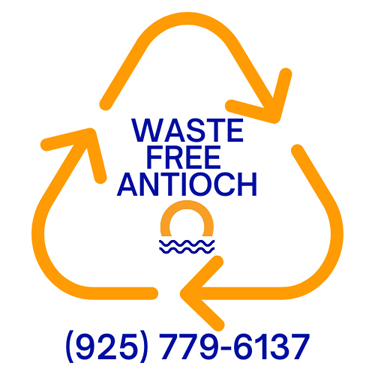 Require subscription to the 3-sort (trash, organics and recyclable materials) program provided by Republic Services for ALL generators (residential, commercial and industrial)
Require all generators to correctly use the 3-sort program and not put items that can be placed in the Recycling and Organics containers into the Trash containers
Require all property owners to educate employees and tenants on the 3-sort program at time of move in/hire AND annually
Employers will require employees to place materials in the correct containers.
Require Food Recovery agreements/programs for qualifying generators
The proposed AMC updates are now available for public review and comment.  Comments or questions can be submitted here or by calling our Environmental Resource Line at (925) 779-6137.  If you would like to schedule a presentation or group discussion regarding the proposed updates please call or email Julie Haas-Wajdowicz at (925) 779-7097 or  jhaaswajdowicz@antiochca.gov.  The first reading of the ordinance is scheduled for the City Council meeting on December 14, 2021, 2nd reading on January 11, 2022 with the Ordinance taking effect Feb 10, 2022.
FAQs
Q: When will Residential Customers have food waste added to their green cart/yard waste program?
A: City staff are currently waiting on a rate proposal from Republic Services to make this change.  We anticipate the new rate will be approved and the program in place by Spring, 2022.
Q: How do I get service set up for my business?
A: Organics collection is currently available at no charge through Republic Services.  You can contact RC Ferris at rferris@republicservices.com or (925) 671-5853.
Q: Does the city have any materials that I can use to help educate my tenants and employees?
A: Yes!  Through our Franchised Hauler, Republic Services, you can get flyers and other education/outreach materials.  Contact RC Ferris at rferris@republicservices.com or (925) 671-5853.