Environmental Resources
Contact Info
Julie Haas-Wajdowicz
Environmental Resources Coordinator
Environmental Resources Line
Related Items

Environmental Resources
---
Reduce
Reduce, Reuse & Recycle where you Live, Work & Play!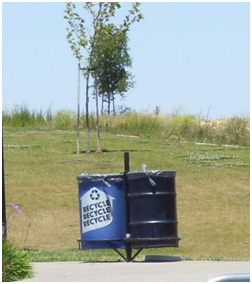 Every year, roughly 56,000 tons of waste material is disposed of in local landfills by residents and businesses in Antioch (garbage/resources buried). This disposed waste is approximately 66% of all the discards generated (reduce, recycle and rot). This equates to 2.9 pounds per person every day! Our State mandated target is 4.2 pounds per person per day and the state average is 4.3, so great job! There are still a lot of resources that can be diverted from the landfill as we work on meeting the State-wide goal of a 75% diversion rate.
In partnership with our Franchised Hauler, Republic Services (formally known as Allied Waste) the city offers many programs to help our businesses and residents reduce their waste. While subscribing to garbage and recycling service is mandatory for all, please keep in mind the even more important R's: Reducing your waste by not generating it, Reusing items and Composting (Rot).
Please do your part by taking advantage of the programs below to Reduce, Reuse, Recycle & Rot!
Composting
Click here for upcoming composting class schedules and links to composting information that will help you learn how to turn your yard's trimmings into rich compost. The City offers free composting workshops and discounted compost bins. Do the Rot thing!
Computer/Electronics/TV Recycling
Televisions and Computer Monitors are banned from landfills and must be recycled and other electronic equipment should be recycled too. Click here for information on how to safety discard your electronic waste.
Freecycle Network & Reuse Guide
Do you have any items that are in a useable condition, but you just don't want it anymore? Are you always on the lookout for free stuff? The Freecycle Network is a grassroots, non-profit movement composed of local groups that are giving and receiving free items in their community. Click here to visit the Antioch group page of the Freecycle Network. Want other options for reusing your items? The Reuse Guide has resources throughout the County for usable items
Garbage & Recycling Collection
As an Antioch resident or business, your garbage and recycling service is provided by Republic Services (formerly Allied Waste Services). Republic Services is the only hauler authorized by the City of Antioch to charge for garbage or recycling collection. To find out more about your curbside service, commercial programs, or community outreach and education, visit the Republic Services Website.
Got Toxics?
It is illegal to dispose of Hazardous Materials in the garbage, storm drain or sewers. You have a safer option. Visit the Delta Household Hazardous Waste Collection Facility.
Motor Oil Recycling
Are you a do-it-yourself type when it comes to automobile maintenance? The City of Antioch has several convenient motor oil and used filter recycling options. Click here to find out more.
Paint Recycling
Need to recycle any unused paint? PaintCare is a non-profit program established to manage the reuse, recycling, and proper disposal of unused paint. Visit www.paintcare.com to find a drop-off location near you.
Recycling in Public Places
Recycle where you play! The City is currently in the process of adding recycling containers to all of the parks in the City of Antioch.
Check even more of the public places the City has recycling available & do your part by recycling your beverage containers where available.
Reuse Guide
Do you have items that you don't need anymore but still have plenty on life left? The Reuse Guide has resources throughout the County for usable items.
Waste Prevention Speakers & Learning Activities
Do you have a community group looking for speakers? Or a youth group or school that wants to learn about waste prevention? Environmental Resources can help! Send us a message to schedule us to come out for one of the following topics:
Composting
Reuse art projects
Waste free lunches
And more!
Yard Waste Program and Exemption Application
Residents of Antioch are required to subscribe to yard waste recycle service with Republic Services. This program successfully diverts over 9,000 tons of material from landfills each year. Click here for more information about Yard Waste Recycling.
If you believe you are eligible for an exemption from the program, click here for a Yard Waste Exemption application.
Finding More Information
Looking for more information on Reducing, Reusing or Recycling, or information on areas outside of Antioch? Check out these links to recycling resources and information.