Environmental Resources
Contact Info
Julie Haas-Wajdowicz
Environmental Resources Coordinator
Environmental Resources Line
Related Items

Environmental Resources
---
Antioch Water
Prohibited Water Uses
Water is essential to California's quality of life. Thank you to all the Antioch Water customers who have cut back their water usage in this time of drought and make efforts to conserve on a daily basis.
Please take the time to look over the drought and water service information included in this page. Additionally as a City of Antioch Water Customer, you are eligible for conservation programs offered by Contra Costa Water District. For more information about California's water issues and offer suggestions to help us conserve visit www.saveourh2o.org.
Current News:
New tiered water rates go into effect July 1, 2015
Water bill inserts are now available online:
City of Antioch Drought Management Plan
Please call our drought hotline, 925-779-6140, for more water conservation and drought program information or to report water waste or drought violations.
On May 12, 2015, the City Council passed by resolution new drought management measures and approved implementation of Stage III of the City's Water Shortage Contingency Plan adopted in June 2011 as part of the City's Urban Water Management Plan:
Violations of prohibited activities are punishable by fines of up to $500 for each day in which the violation occurs.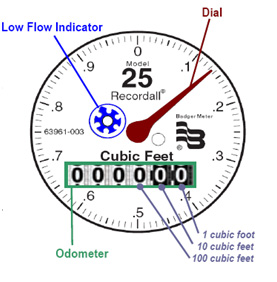 Your two-year historical data is available on-line. To view your consumption history, scroll down to Antioch Water Account Information and click "on-line service". Next, click on the Water Utility Billing tab to create Member Registration. After you have registered, you can add your account number to access a history of your account transactions, and consumption data
How a Water Meter Can Track Water Use and Help You Check For Leaks:
Your water meter can tell you how much water you are using during a given time period, and can help you monitor the amount of water you use indoors and outdoors on a daily basis. It can also help you determine how much water each appliance uses, and whether you have a leak. Click here to learn How to Read Your Water Meter and Check for Leaks
Water Use Prohibitions
All customers:
Watering of outdoor landscapes in a manner that causes excessive runoff such that water flows onto adjacent property, non-irrigated areas, private and public walkways, roadways, parking lots, or structures.
Watering of outdoor landscapes during and up to 48 hours after measurable rainfall.
Washing a vehicle, trailer or boat using a hose without a shut off nozzle.
Washing paved or other hard-surfaced areas, including sidewalks, walkways, driveways, patios, and parking areas.
Use of water for non-recirculating decorative fountains or filling decorative lakes or ponds.
Using a hose without an automatic shutoff nozzle.
Failing to repair a controllable leak.
Non-Residential Customers- In addition to the prohibitions above, the following prohibitions apply to commercial customers:
Serving of drinking water other than upon request in eating or drinking establishments, including but not limited to restaurants, hotels, cafes, cafeterias, bars, or other public places where food or drink are served and/or purchased.
Operators of hotels and motels shall provide guests with the option of choosing not to have towels and linens laundered daily.  A notice shall be prominently displayed in each bathroom.
Fines for Violations of Prohibitions
Citations can be issued for failing to correct violations of prohibitions above (infractions under the Antioch Municipal Code, and in accordance with State penalties) and will be as follows:
Fine for first violation: $100.00/day
Fine for second violation: $200.00/day
Fine for third and subsequent violations: $500.00/day
Please note: If you have a landscape gardener, make sure you ask the gardener to adjust your irrigation timer in accordance with the City's new regulations.  You are responsible for the water you use.
Good Drought Program Water Practices
Visit www.h2ouse.org for room-by-room and outdoor use tips on conserving water.  Additionally, information is available on CCWD's home page at www.ccwater.com. CCWD offers a variety of incentives and rebates to customers. The City of Antioch is a retail customer of CCWD, and Antioch residents are eligible to participate in these incentive programs. For more information, go to www.ccwater.com/conserve/. Examples include:
Free conservation site surveys
Rebates for water-efficient clothes washers
Coupons for mulch for use in landscaping
Lawn to Garden: $1.00 per square foot of lawn replaced with water efficient landscaping (maximum rebate for single family is $1,000 and pre-approval is required before you start).
Coupons for carwashes using recycled water
Sign up for the Water Saver e-Newsletter at www.ccwater.com/conserve/